Official Agenda: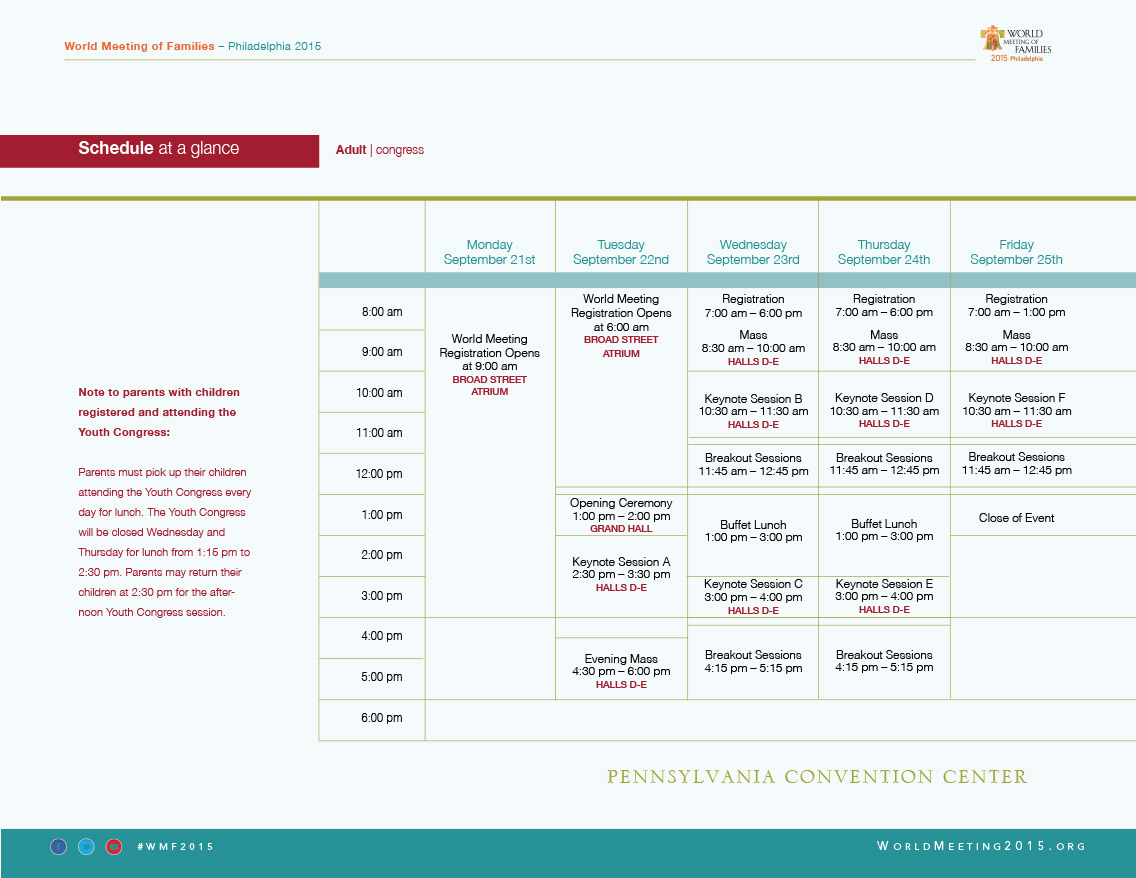 ---
##Saint Philip Neri Papal Pot Luck Dinner For those parishioners who wish to stay in the area, St. Philip Neri will be hosting a pot luck dinner in the school hall. Doors will open at **2 pm** and we will be live streaming the events on the parkway culminating with the Papal Mass schedule to begin at 4 pm.
In order for us to have a sense of how many people to expect, sign-up sheets are located at each door of the church. Beverages, plates, and utensils will be provided.
If you have any questions, please contact Tammy Tenaglia at (215) 836-1164 or via e-mail at ntenaglia@aol.com. I look forward to joining you for this memorable and blessed family event.
---
About The World Meeting of Families
The Festival of Families, held on Saturday, September 26, 2015, is an international celebration of family, community, and faith. Everyone is invited to join in this joyful, global celebration of support and love. During this event, high-level performers, both music and visual, will entertain and educate participants from around the world. The culmination of the Festival will be a nationally broadcast main stage program of music and spectacular visual arts performances by world renowned artists, including Andrea Bocelli, Columbian Superstar Juanes, and the Philadelphia Orchestra.
Pope Francis will celebrate with us during this time, both to enjoy the show and to listen to six families from different continents briefly describe their joys and challenges. The Holy Father will respond with compassion and words of wisdom for all of us, speaking to those present at the event (more than a million) as well as the additional millions participating through remote viewing.
In addition to the main stage, there will be a second stage and exhibits. The second, smaller stage will feature performances throughout the day by many cultural groups, educational institutions, and spiritual organizations Saints for the Family Saint Pope John Paul II ,Saint Gianna, Mary Undoer of Knots, Saint Joseph, Saint John Bosco, Saint Anne, Saint Joachim, Saint Francis of Assisi, Saint Raphael
---
FULL ITINERARY
Saturday, September 26
Morning:
Private Arrival: Philadelphia International Airport
The Cathedral Mass with Pope Francis: The Cathedral Basilica of Saints Peter and Paul
Afternoon:
Greeting of the Holy Father by the Seminarians of Saint Charles Borromeo Seminary:
Exterior Front Steps of Saint Charles BorromeoSeminary
"We Hold These Truths... :" Independence Hall (Outdoor; Overlooking Independence Mall)
Address by Pope Francis (Expected Themes: Religious Liberty and Immigration)
Evening:
The Festival of Families: The Benjamin Franklin Parkway
Sunday, September 27
Morning:
Address to Cardinals + Bishops attending World Meeting of Families - Philadelphia 2015:Saint Martin's Chapel at Saint Charles BorromeoSeminary
Visit with Prisoners and Select Families: Curran-Fromhold Correctional Facility
Afternoon:
The Papal Mass: The Benjamin Franklin Parkway (Projected: 4 p.m. EST)
Evening:
Departure